Tunisia – A gateway to the Sahara
The Residence Douz is Cenizaro Hotels & Resorts' first desert resort and the brand's second opening in Tunisia. Serving as a gateway to the Sahara, surrounded by glistening golden sands and swaying palms, the serene retreat comprises of 50 elegant villas, two gourmet restaurants and a sprawling Spa by Clarins, all set within 14 hectares of rolling dunes.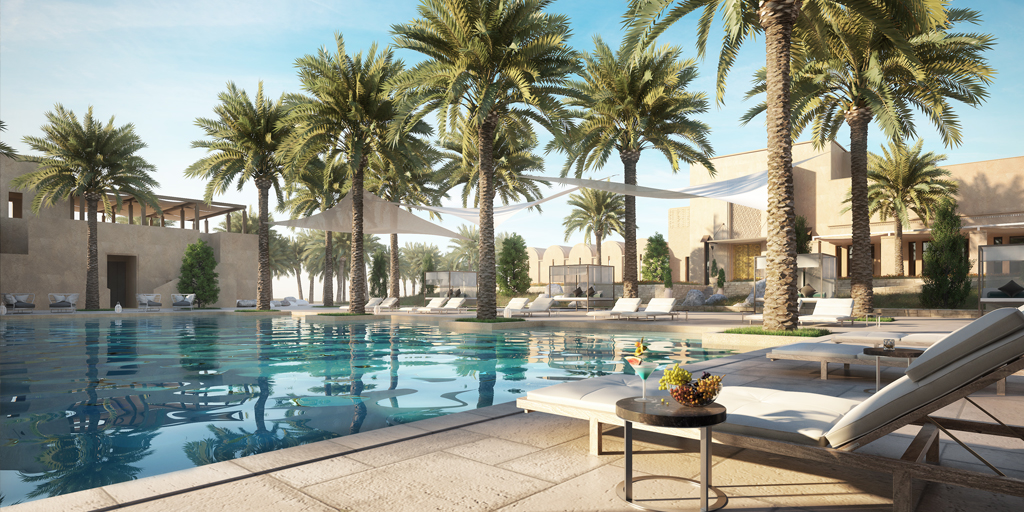 Located in southern Tunisia, the luxury resort provides an otherworldly escape for travellers seeking a oasis of comfort and seclusion. Set within an intimate palm grove, the encampment seamlessly combines modern luxuries with timeless elegance, inviting guests to dream peacefully under a sky full of stars and disconnect from the outside world. Referencing local design and aesthetics, villas and communal areas incorporate artwork from emerging Tunisian painters and sculptors, hand-woven carpets and private terraces. Take a dip in the expansive pool before whiling away the afternoon on plush sun loungers, with refreshing beverages and sumptuous snacks served poolside to quench appetites.

With a number of UNESCO World Heritage Sites to explore, guests are encouraged to venture outside the resort by jeep, camel or quadbike and fully immerse themselves in the destination. Guest ambassadors are on hand to arrange a variety of excursions, from day trips to the village of Matmata, famed for its troglodyte houses which once played the home of "Luke Skywalker" in Star Wars, to a luxury camping experience in Tembaine. Travel across dunes in 4x4s and pass through Jebil Park to spot protected Saharan species from gazelles to reptile, before arriving at camp for sunset to gather around the fire and dine under the stars. Another must-visit site is Tamerza, an abandoned village that overlooks a mesmerising mountainscape, complete with towering waterfall and canyon which guests can wander through during a full-day excursion; this includes a tour of a former Berber fortress, Ksar Beni Alssa and a visit to the mountains of Toujane.
An amalgamation of worldwide influences and cuisines, Tunisia's rich culture is reflected in the resort's two dining experiences that celebrate Arabic delicacies and Mediterranean elegance, with both fine dining and comfort food on offer. The resort is also home to Cenizaro's Earth Basket initiative, a permaculture farm and nursery where a variety of local vegetables, spices and herbs are grown. Guests can learn about sustainable farming practices at the Mud House, a cultural hub set in the heart of the resort that provides an array of workshops on ancient crafts and traditional Tunisian practices.

After days spent basking in the desert heat, senses can be soothed at the Spa by Clarins; an elixir for the soul, the tranquil space boasts a large hammam, 8 treatment rooms, 2 scrub rooms, an indoor pool, traditional Moorish Baths and an opulent lounge. Indulge in an array of signature treatments that seek inspiration from the surrounding nature and incorporate indigenous ingredients including ghassoul clay and beldi soap. For tiny travellers, the kid's club is complete with an observatory for stargazing, child-friendly pool and playrooms for children to revel in the shade.

The Residence Douz follows in the footsteps of The Residence Tunis, which opened in 1996 and remains a firm favourite amongst luxury travellers visiting the north of the country. Cenizaro Hotels and Resorts want to continue investing in this cultural destination and is delighted to now provide travellers with two unique offerings, allowing guests to travel from the coast to the desert with ease and uncover the many treasures of Tunisia.