China – Iconic airport hotels are becoming a great destination
Hyatt Hotels Corporation announced the opening of Hyatt Regency Hangzhou International Airport. The 336-room hotel is located just a minute walk from Terminal 4. With a variety of dining options, multi-functional meeting and event spaces, as well as a tranquil spa and wellness facilities, it offers a truly seamless travel experience for business and leisure guests to stay connected and energized.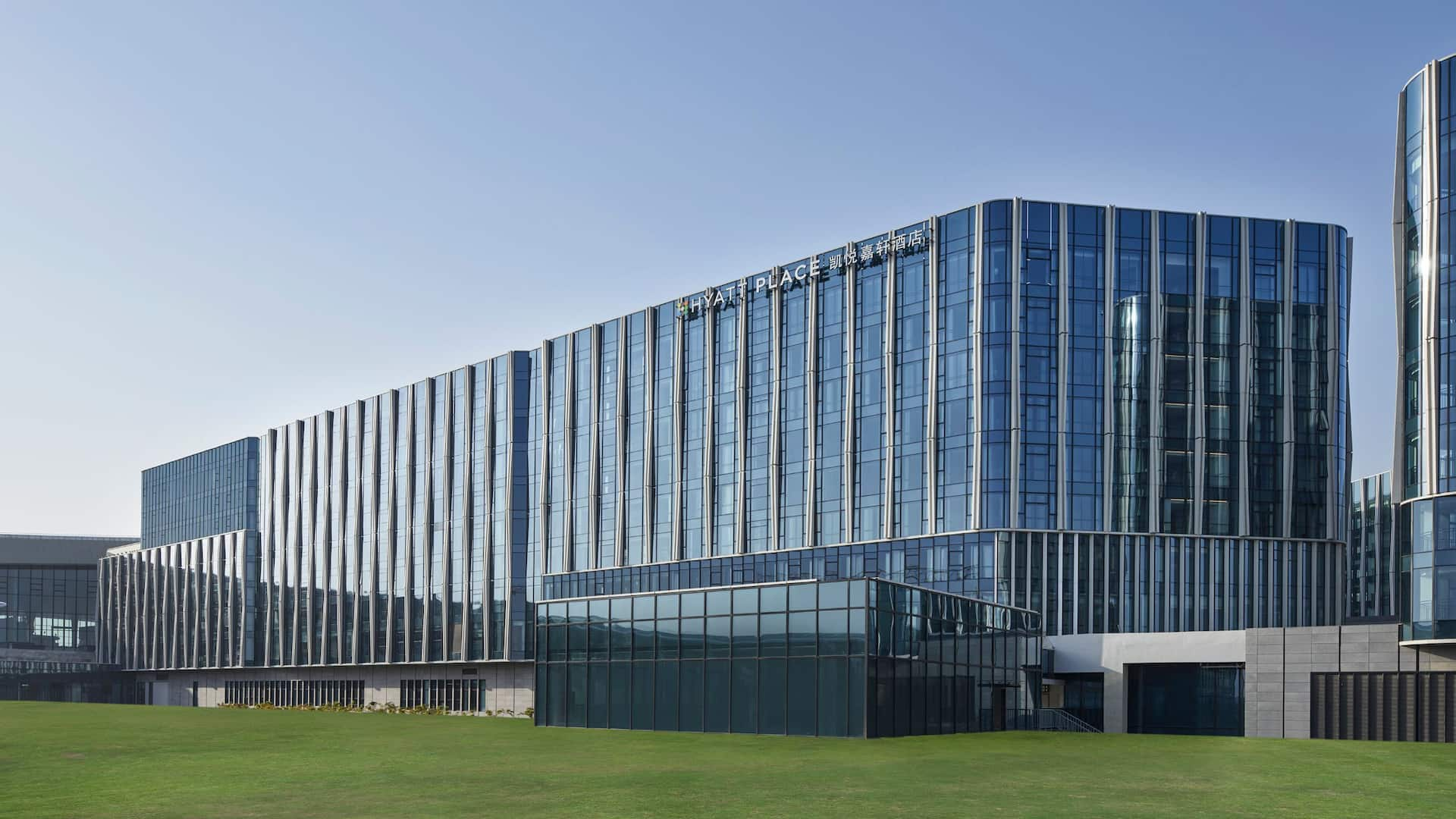 Hangzhou was China's capital city in the Southern Song Dynasty (1127-1279) and remains a thriving economic, commercial and tourism hub as the capital of Zhejiang Province today. With flight connections all around China and the world, Hangzhou International Airport is strategically located within a 20-minute drive of Hangzhou's business district, expo centers including Qianjiang CBD, Hangzhou International Expo Center and a 40-minute drive from the scenic site, West Lake. Meanwhile, the Hangzhou metro line from the airport enables easy access around the city.
Katharine Li, general manager of Hyatt Regency Hangzhou International Airport said, "Iconic airport hotels are becoming a social and business destination on their own, designed to fulfill the needs of today's travelers for convenience, empathetic service, and peace of mind. Directly connected to the airport but a world away from the stresses of travel, our hotel welcomes guests to discover memorable moments enhanced by the Hyatt Regency brand's signature anticipatory service and contemporary style."
Tranquil Guestrooms
The hotel's 336 guestrooms, including 18 suites, offer a refreshing sanctuary where guests can relax and enjoy their stay. Sound-proofing, double-insulated windows and comfortable beds ensure a restful night's sleep. Smart technology makes it easy to stay connected and feel at home. Taking cues from Hangzhou's poetic vistas of lakes and rivers, the guestroom design incorporates a soothing color palette of dark blue and gray, with natural materials such as hardwood floors and marble bathrooms. Floor-to-ceiling windows frame panoramic views of the runways and the airport's contemporary architecture. Regency Club guests can enjoy access to the Club Lounge with multifunctional spaces to connect for meetings, hot-desking or relaxing, plus complimentary breakfast, afternoon tea and evening cocktails.
Culinary Experiences
Airport dining reaches new heights at Hyatt Regency Hangzhou International Airport. Whether for a family banquet, casual business meeting or simply an enjoyable meal before a flight, the hotel's three restaurants and lounges are distinguished by Hyatt's global reputation for culinary excellence.
Xiang Yue Chinese Restaurant specializes in local Jiangsu and Zhejiang cuisine, Hangzhou specialties. The jade-hued dining room evokes a cultured Hangzhou mansion and has five private dining suites that seat up to 22 guests. The all-day Market Café is inspired by a lively marketplace, serving seasonal ingredients crafted into Chinese and international favorites by chefs in interactive open kitchens. The residential ambience of The Lounge is ideally suited for light meals and refreshments, with real-time flight and airport information available at a glance.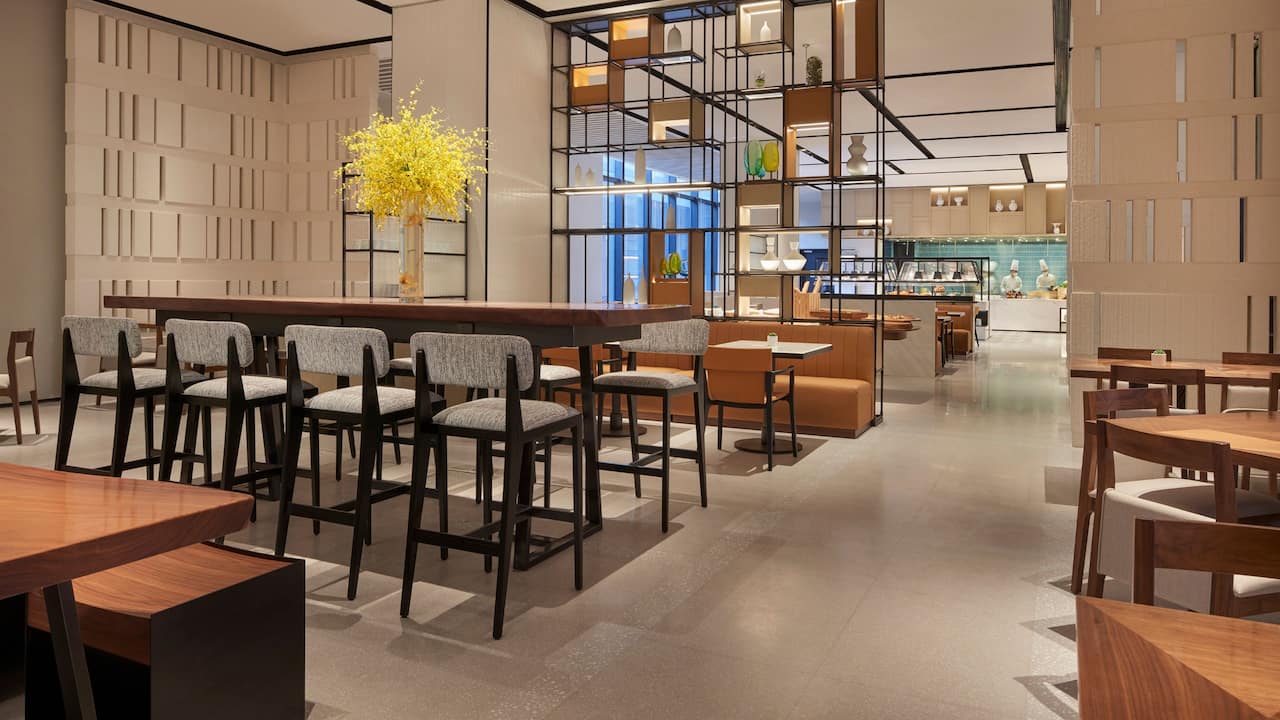 Stress-free Meetings and Events
For special events, conferences or weddings, Hyatt Regency Hangzhou International Airport offers 26,909 square feet (2,500 square meters) of impressive venues with the benefit of fly-in/out airport connectivity. A 9,687-square-foot (900 square-meter) pillar-free Regency Ballroom seats 400 guests banquet-style and adjoins a 3,875 square-foot (360-square-meter) Foyer. Six meeting salons located on the same floor can host between 22 and 200 guests with multifunctional layouts and generous natural light. Every event is supported with advanced technology, a professional events team, and Hyatt's renowned catering expertise.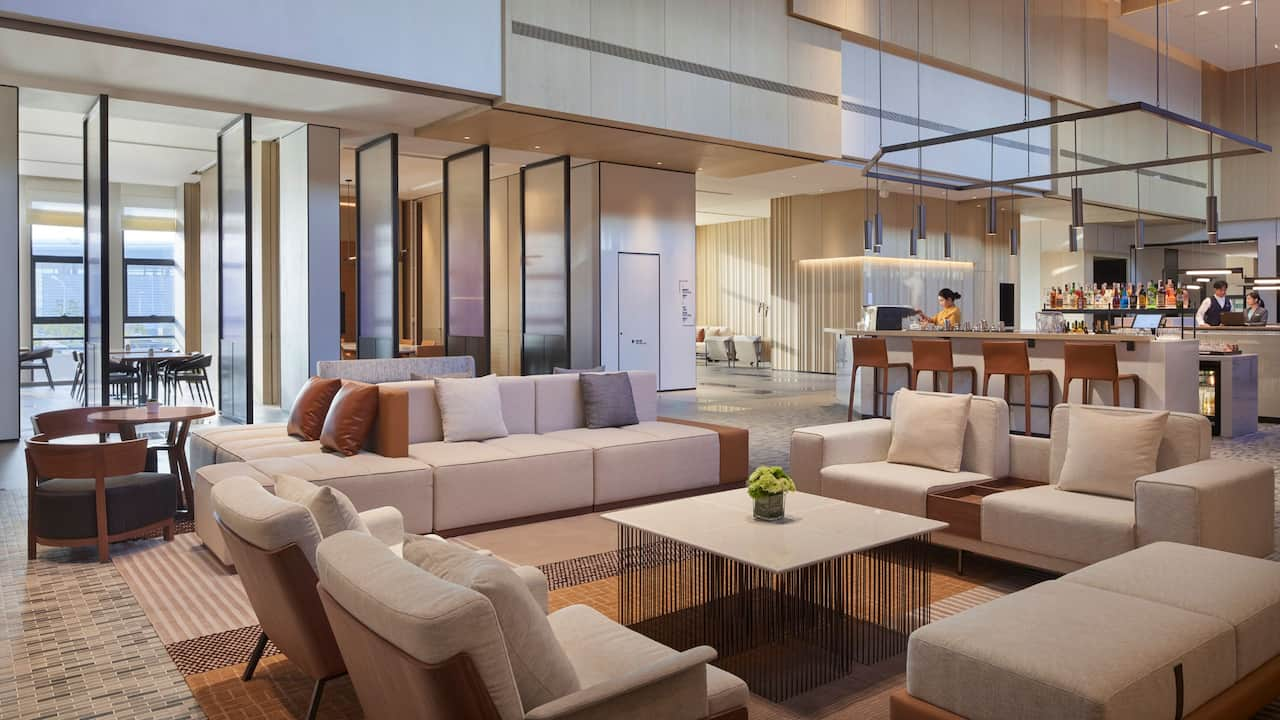 Wellness
At Hyatt Regency Hangzhou International Airport, wellbeing is top of mind with several options to unwind and relax. FLO Spa offers customized body and facial treatments that will leave guests feeling refreshed and ready for new adventures. Guests can enjoy a memorable 'airport swim' in the temperature-controlled infinity-edge swimming pool on third floor with 19-foot (six-meter)-high windows looking over the runways and an eco-friendly, glass-fiber quartz sand filtering system. A spacious 24-hour Fitness Center is also available for guests to keep up with their wellness routine while traveling.