Croatia – Spectacular panoramic views of the Adriatic Sea
AC Hotels by Marriott®, the design-led lifestyle brand part of Marriott Bonvoy's portfolio of 31 extraordinary brands, announced its brand debut in Croatia with the opening of AC Hotel by Marriott Split. Housed on the high floors of the 135-metre-high Westgate Tower with spectacular views of the Adriatic Sea and Split's unique cityscape, the new hotel is set to offer The Perfectly Precise Hotel™ experience.
"We are excited to bring AC Hotels' design-driven guest experience to the Dalmatian Coast, expanding Marriott Bonvoy's footprint in the region," said Matthew Boettcher, Vice President and Global Brand Leader, Distinctive Select Brands. "Housed in a prime location in the city center of Split, AC Hotel by Marriott Split is set to serve as the perfect base for a seamless, comfortable experience for both business and leisure travelers."
Designed by renowned architect Otto Barić and Croatia-based interior designer firm Atellior Studio, AC Hotel by Marriott Split takes shape with clean modern lines and aesthetically proportioned spaces. The soothing and warm color palette together with the adoption of natural materials like oak, patinated brass and linen effect wallpaper allows spaces to blend from one to another, blurring the line between inside and out. Curious travelers can peek through a glass door to view part of a 1700-year-old Roman aqueduct running throughout the property location. Flexible and open communal spaces are designed to provide maximum comfort and function, making them perfect for business meetings and socializing. The hotel's AC Lounge features locally sourced art by prominent Croatian artist Vatroslav Kuliš, a collection of books, as well as architecture and fashion albums, to evoke the feeling of a well-curated gallery.
The contemporary, minimalistic design of the 214 guestrooms allows travelers to use the space in whatever way they see fit, offering plenty of room to store luggage or pull up a chair and work efficiently. All rooms offer panoramic views of the city below.
In keeping with Croatia's coastal culinary scene, AC Hotel by Marriott Split serves delightful flavors of Mediterranean cuisine in Laureto Restaurant with Croatian Chef Goran Šikić at the helm. Cumano Bar offers a range of creative cocktails and timeless classics with a modern twist, including the signature AC Gin & Tonic. Other facilities include 178 SPA featuring an indoor pool, sauna and steam room; a 325 square-meter meeting space comfortably accommodating up to 240 people, and a gym with state-of-the-art Matrix equipment and unobstructed views of the Adriatic Sea.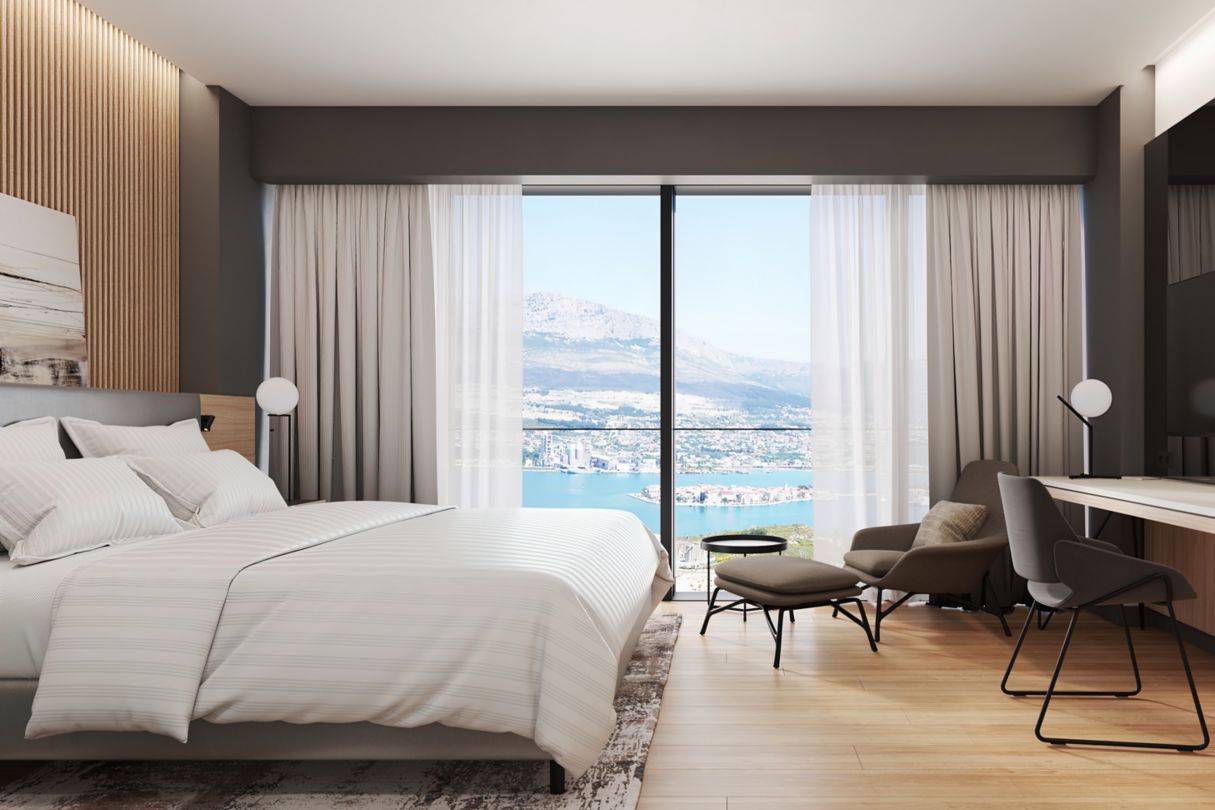 "The opening of AC Hotel by Marriott Split marks an exciting chapter for the local hospitality industry as Marriott International brings the AC brand to Croatia. We hope to contribute significantly to the region's economic growth by attracting business and leisure travelers alike as well as fostering corporate partnerships. We look forward to welcoming guests to the AC Hotel Split and showcasing the distinctive offerings of our new hotel." said Ljubica Bauk, General Manager of AC Hotel by Marriott Split.
Croatia's allure lies in its breathtaking natural landscapes, crystal-clear turquoise waters, and charming coastal towns. As Croatia's second-largest city renowned for its rich history and stunning architecture, Split serves as a gateway to the picturesque Dalmatian islands, offering easy access to breathtaking destinations like Hvar, Brac, and Vis. With its prime location in the city center, AC Hotel by Marriott Split offers easy access to popular attractions, including the iconic Diocletian's Palace, the vibrant Riva promenade, and the crystal-clear waters of the Adriatic Sea.