France – A guest house atmosphere perfectly anchored in its environment
For its third opening in France, Hotel Indigo, part of the IHG Luxury & Lifestyle portfolio, has chosen the bohemian city of Bordeaux as its new "pied-à-terre". This design-led boutique hotel is located in the central Chartrons district, a picturesque neighbourhood just a short stroll from the Garonne River. Hotel Indigo is one of the only hotel brands that delivers a beautiful perspective of the neighbourhood, bringing its sights, sounds, and flavours into our spaces. At Hotel Indigo Bordeaux – Centre Chartrons – with its colourful new address, the nearby Bassin d'Arcachon bay on the Atlantic coast with its beachside hues, the famous Dune du Pilat and its authentic oyster huts all serving as design traits throughout the hotel. Much more than just a destination, the hotel's 100 rooms are unique, as is the cuisine of the rooftop restaurant, Tchanqué.

Hotel Indigo is the world's neighbourhood hotel, celebrating how guests can discover, or rediscover, some of the most inspiring and culturally rich neighbourhoods in and outside of our hotels across the world. When staying at a Hotel Indigo, it is not just to visit a place, it is about being fully immersed into the neighbourhood yourself and wanting to take a little bit of it home with you.
Specifically for Hotel Indigo Bordeaux, the neighbourhood of Chartrons is named after a medieval charterhouse and has lived a million lives since. Once a meeting place for the great wine merchants, today it's a popular spot for locals and connoisseurs of design and antiques. The Chartrons' main street, Rue Notre-Dame, is home to numerous restaurants with sunny terraces, wine bars and some of Bordeaux's best bakeries. There are also boutiques selling accessories, bohemian chic fashion, handmade toys and local gourmet products.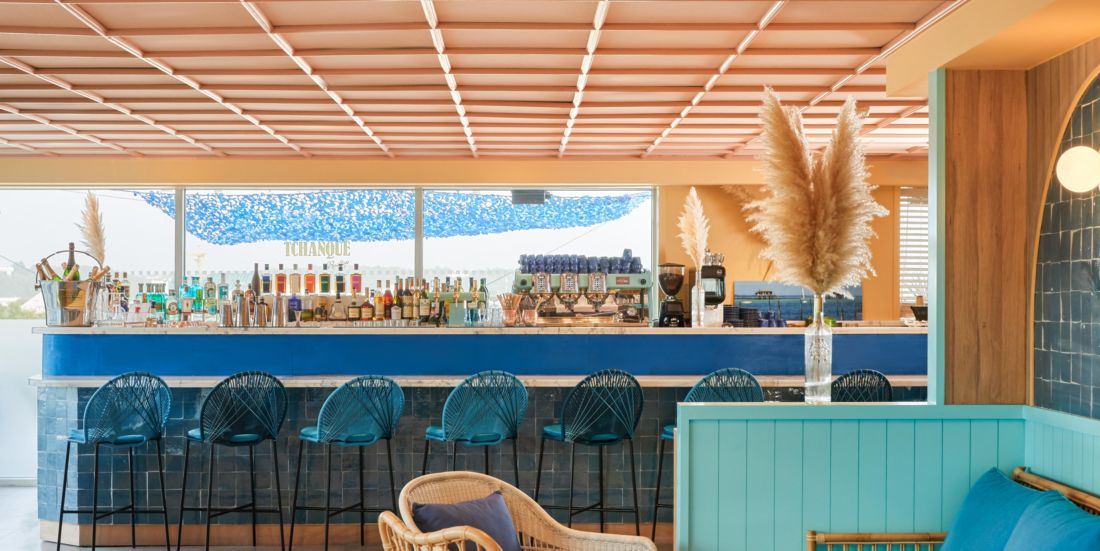 Every detail, every room in the hotel has been carefully thought out by designer Stella Cadente. Through her choice of materials and colours, the designer tells the story of a family vacation in a guest house on the Arcachon Basin. Each room is an invitation to imagination and family memories. With its warm, reassuring yellow tones, the "Pilat" guest room recalls sunny afternoons spent on the sandy dunes. The "Sunset" room, with its orange and coral colours, is a reference to the sunsets people watch together nearby. The 'Lagoon' room, reminds one of the tranquil blue seas whilst the 'Rotunda' suites encapsulate the very best of the hotel in terms of aesthetic design and visual splendour.
Carol Hoeller, Vice President Global Brand Management for Hotel Indigo, said: "Bordeaux is your quintessential French city. Not only is it steeped in history, but the 'capital of wine' has long been a favourite destination for many travellers. As a brand known for celebrating the tastes and traditions of the communities our hotels are part of, it only made sense for Hotel Indigo to have a presence in a neighbourhood renowned for its food and beverage scene, as we continue to grow our portfolio in France."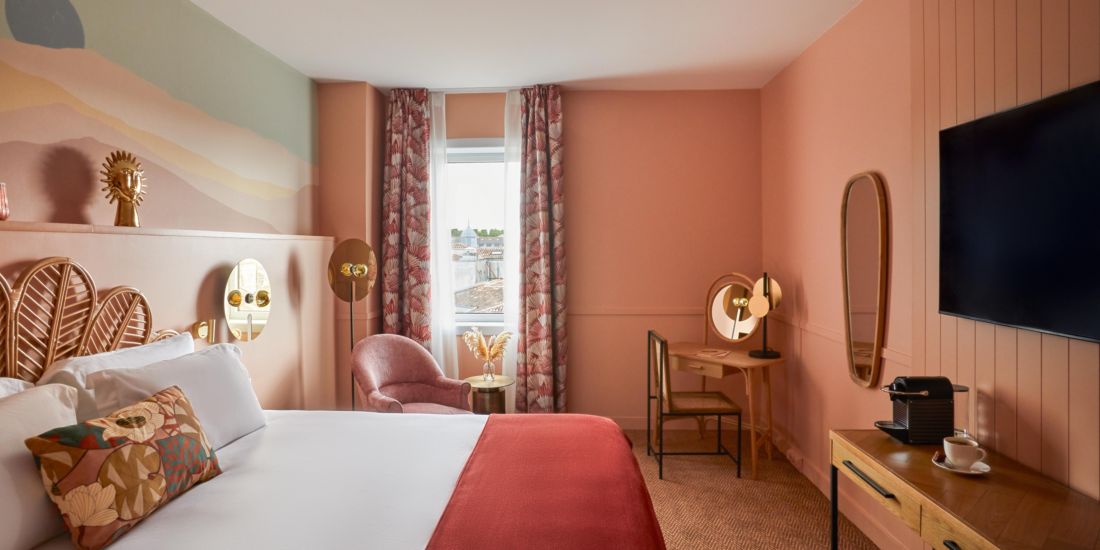 For the furniture and decor, designer Stella Cadente wanted unique pieces that spoke for themselves: "We used a lot of high-quality materials. We have several authentic pieces. All the rooftop tables are in zellige tiling and were made exclusively for the hotel. There are also ceramic pieces with little imperfections because they are handmade. The bed headboards are a mix of accessories and décor. When you look at the furniture and decorative objects, you travel. It's this human aspect that stands out in the decor."
This quest for authenticity and escape continues right up to the 7th floor. The perfect blend of Bordeaux's Arcachon and Venice Beach in California, the Tchanqué restaurant offers a timeless experience at the summit of Bordeaux. For breakfast and dinner, healthy, fresh, and hearty dishes are served using local ingredients inspired by the Bay of Arcachon and the Basque Country. Chef Stacy Williams' menu is generous and gourmet, with seafood a central theme to many dishes. Examples include shrimp rolls or seared tuna bites from the sharing menu to mains such as the seafood linguine, roasted monkfish or Octopus a la Plancha to tempt the tastebuds. Sweet treats range from the signature creamy cannelés or choux d'amour as a sharing option. The Tchanqué restaurant experience goes even further, with an oyster bar, "the chef's table" to enjoy the convivial spirit over shared plates, signature cocktails and a local wine list built in partnership with local producers.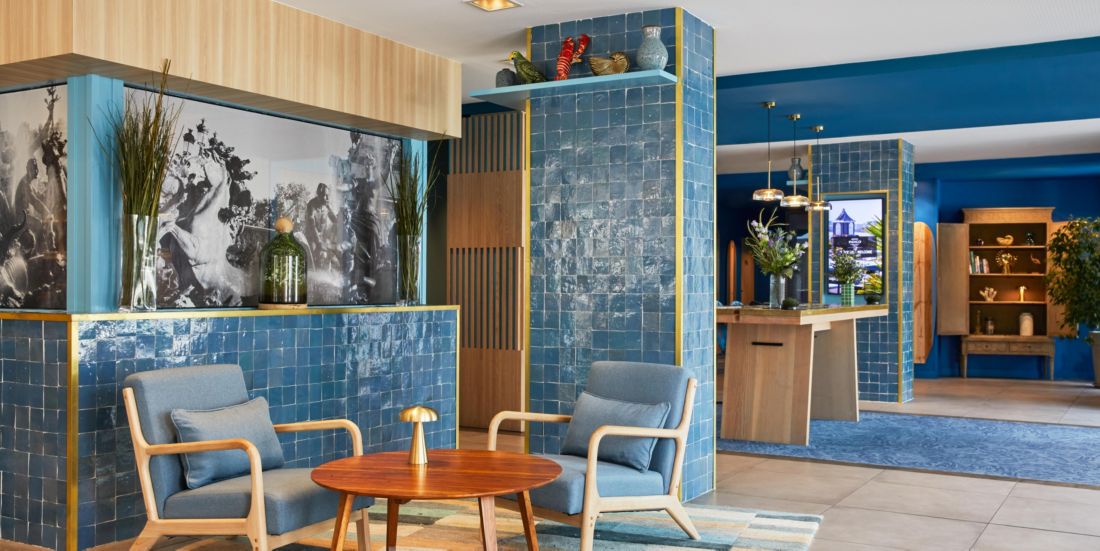 General Manager at Hotel Indigo Bordeaux, Emeric Autier, added: "This is the hotel business as I see it today. The hotel is perfectly anchored in its environment. It's an invitation to escape. It's inspired by the Chartrons district, with a touch of Arcachon basin. We wanted to create a 'guest house' atmosphere while preserving the sophistication of a hotel. This is the very DNA of Hotel Indigo Bordeaux."
The hotel is accessible by public transport and is located near the Cité des Vins, the Bassin Des Lumières, the Jardin Public and the majestic Place Des Quinconces. It's right in the heart of the Chartrons district, known as a small "village" within the city.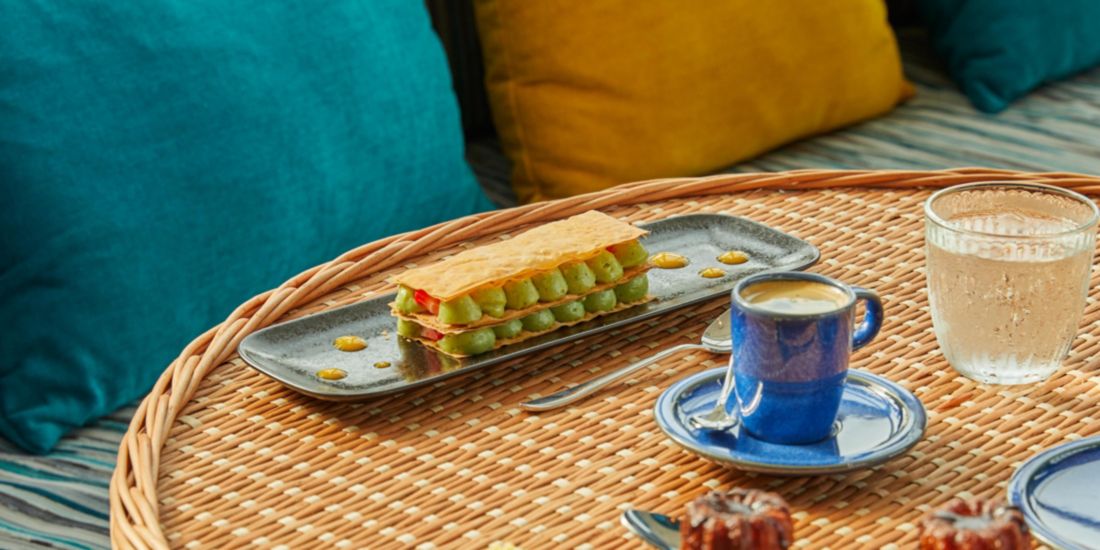 Rooms at Hotel Indigo Bordeaux will feature premium suites with panoramic views, premium family rooms, standard and premium rooms, its rooftop restaurant Tchanqué with a breath-taking view of the neighbourhood, a gym, a coworking space open to the public and four conference rooms.
Hotel Indigo Bordeaux has opened in partnership with hotel owner group, Grape Hospitality. Along with Hotel Indigo Bordeaux, there are further exciting openings planned for the near future including Hotel Indigo Florence, Hotel Indigo Barcelona Granvia Plaza España, voco Madrid Retiro and Crowne Plaza Madrid Centre Retiro.