USA – New property for moments of relaxation and inspiration
Hilton announced the opening of the 661-room Tempo by Hilton Times Square, the first hotel from Hilton's newest stylish and contemporary lifestyle brand.
Located in TSX Broadway, a new 46-story tower featuring experiential retail, cutting-edge entertainment spaces and the historic Palace Theatre, the hotel matches the ever-evolving needs of the traveler whose ambitious spirit calls for both moments of relaxation and inspiration. Hotel highlights include expansive views of Times Square, a buzzy cocktail lounge with an outdoor terrace, fitness center with top-of-the-line equipment and signature Tempo by Hilton Wellness Rooms featuring Peloton bikes.
As part of the soon-to-open TSX Broadway, Tempo by Hilton Times Square is setting the stage for a new era of Times Square hospitality. The hotel is located on the Western Hemisphere's most visited corner, where 400,000 people pass by daily.
"Tempo by Hilton speaks to how we innovate our brands at Hilton each and every day," said Matt Schuyler, chief brand officer, Hilton. "From rooms designed to cater to our guests' well-being, to an array of culinary offerings designed for the health-conscious traveler, Tempo by Hilton ensures an expanded wellness experience for our guests and reflects the ongoing growth of our lifestyle brands that are reshaping the traditional hotel experience. With incredible entertainment and retail spaces from TSX Broadway and an immersion in the heart and culture of Times Square, this hotel truly serves as a destination unto itself."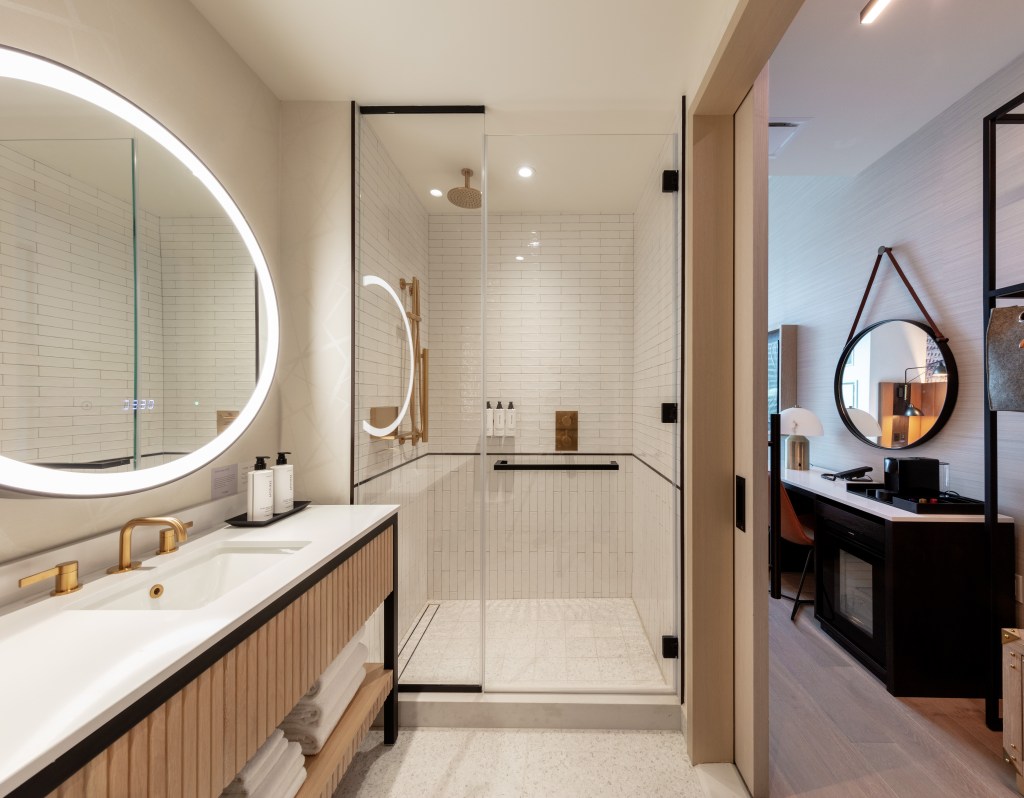 With the debut of Tempo by Hilton Times Square, as well as the upcoming openings of Motto by Hilton, Home2 Suites by Hilton and Hampton by Hilton in Times Square this summer, Hilton will add nearly 2,000 rooms to its portfolio in this iconic destination.
Danny Hughes, executive vice president and president, Americas, Hilton said, "Times Square is experiencing its renaissance, and, in partnership with TSX Entertainment, we're excited to play a part in propelling this iconic neighborhood into its next chapter, encapsulating the energy and vibrance of the heart of the Big Apple. Tempo by Hilton Times Square is an important addition to Hilton's portfolio of more than 50 hotels across New York City, and we're delighted to serve as the new homebase for business travelers, leisure travelers and locals looking to stay and play in this dynamic destination."
Designed for the Rhythm of Life
Designed by Wimberly Interiors, interior designer, and Mancini Duffy, architect of record, the 36-story hotel features warm tones and stylish décor meant to evoke an atmosphere of comfort, inspiration and rejuvenation. Each space is functional yet elevated, approachable yet modern – empowering guests to maintain their momentum while traveling as they continue to move, rest, work and live.
Throughout the hotel, guests will find flexible and stylish common spaces ideal for brainstorming with teammates, socializing with friends or simply finding a quiet place to unwind. Upon arrival on the 11th floor, guests are greeted by a communal lobby featuring a signature hydration station offering alkaline filtered water. In partnership with Planet Water Foundation and Klean Kanteen guests may purchase reusable water bottle from the gift shop, with $2 from each bottle helping to support water-insecure communities all over the world. In addition, Hilton Global Foundation, Tempo by Hilton and Tempo by Hilton Times Square will fund an AquaTower water filtration system that will bring clean, safe water to a community in Puebla, Mexico.
Neighboring the lobby and centrally located are the hotel's food and beverage outlets, Grab & Go and Highball – the latter a restaurant and cocktail lounge which offers exclusive access to an outdoor dining terrace overlooking Times Square.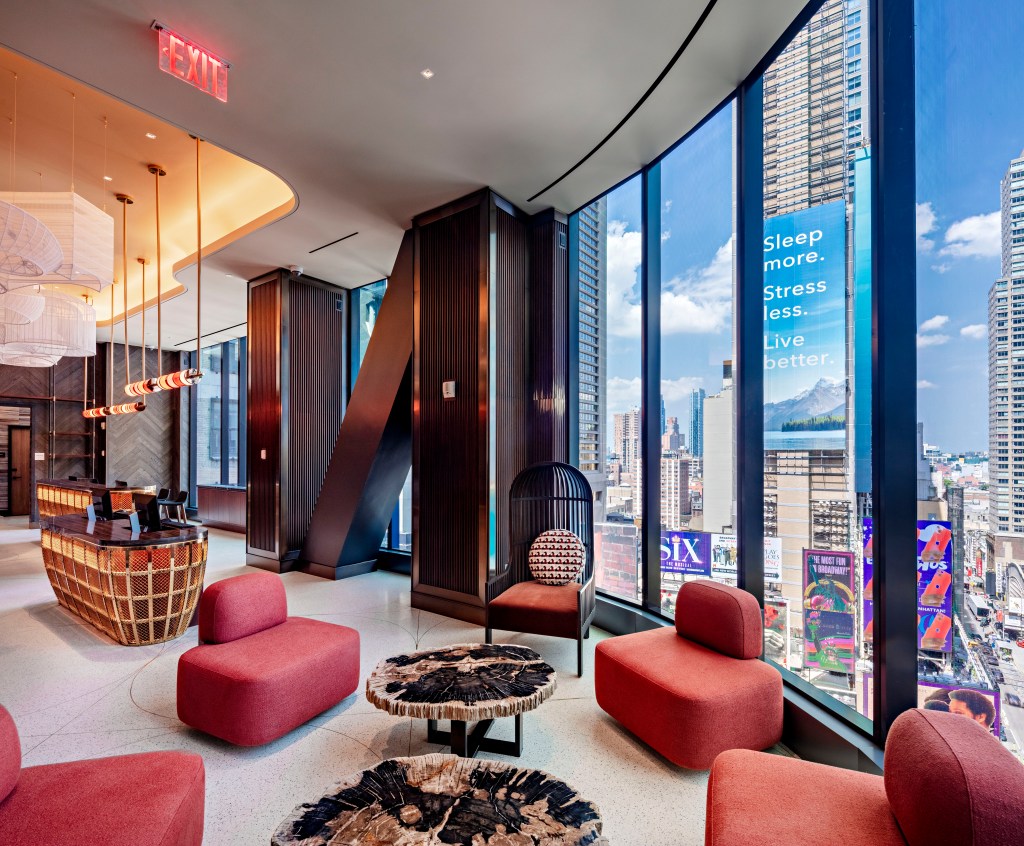 Guest Rooms to Power Up and Power Down
Offering a refuge for travelers, rooms are designed with three zones for function and comfort: a Get Ready Zone, a well-lit space perfect for preparing for the day or a night out, finishing some work or eating a quick bite; a spacious bathroom with an oversized shower, Bluetooth speaker mirror and luxe Apotheke bath amenities; and an enveloping sleep environment with Sealy Accelerate mattresses, exclusive to Tempo by Hilton and dressed in cooling linens alongside amenities including a 65-inch TV and mini-refrigerator. Additionally, through the innovative Confirmed Connecting Rooms by Hilton technology, guests can instantly confirm at least two connecting rooms when booking upcoming stays.
Spacious guest rooms and suites offer unrivaled views of Times Square through floor-to-ceiling windows, and modern comfort is achieved through sleek, natural tones of light wood and blue coupled with touches of brass and leather. Lighting automatically turns on upon entry and dims at sunset, also offering the option to brighten the space if working or getting ready for the day.
Nine Wellness Rooms cater to the health-conscious traveler looking to keep up with their home routine on the road, outfitted with a Peloton Bike and access to a library of digital content, a yoga mat and resistance bands. Perfect for New Year's Eve, the hotel is also home to 31 Ball Drop rooms featuring close-up views of the famous Times Square Ball, with the most spectacular view from the Presidential Suite, which features a stylish living area, dining room and kitchenette. The property also features 70 ADA-compliant rooms and suites.
Nourish Well with Intriguing Culinary Experiences
Tempo by Hilton Times Square is a day-to-night dining destination that pays homage to the city's culinary heritage.
For those on the go, the hotel's Grab & Go – crafted in collaboration with Bluestone Lane, the Australian-inspired premium coffee roaster, café and lifestyle brand – ensures guests have access to everything they need to sustain energy and boost focus. Guests can fuel their day with hearty and healthy breakfast and lunch options like seasonal salads, artisanal sandwiches, fresh fruits and an assortment of drinks such as specialty espresso drinks, teas and juices.
Under the helm of Restaurant Director Kamal Ahmed, as well as Chef de Cuisine Kit Skarstrom, signature restaurant Highball serves shareable plates from sunrise to sundown. Highlights include reimagined New York-style hot dogs and artisanal sliders featuring locally sourced ingredients and a selection of dishes inspired by the garden, land and sea like white asparagus with crushed edamame and truffle vinaigrette, and crispy Hamachi with caramelized endive and sea beans. As the day transitions to evening, Highball transforms into a swanky cocktail lounge, perfect for pre- or post-Broadway show drinks like Tempo's signature spirited and free-spirited cocktails, a variety of draft brews and a curated wine list. Guests can enjoy an intimate indoor seating area or an expansive wrap-around outdoor terrace featuring exceptional views of Times Square.