Australia – A new hub on the harbour of Sydney
W Hotels, part of Marriott Bonvoy's global portfolio of over 30 brands, announces the highly anticipated opening of W Sydney. Located in a dramatic curved structure rising over Darling Harbour, W Sydney is set to become a coveted destination for travelers and Sydneysiders alike, bringing new energy and a modern take on luxury to the city and harbour waterfront.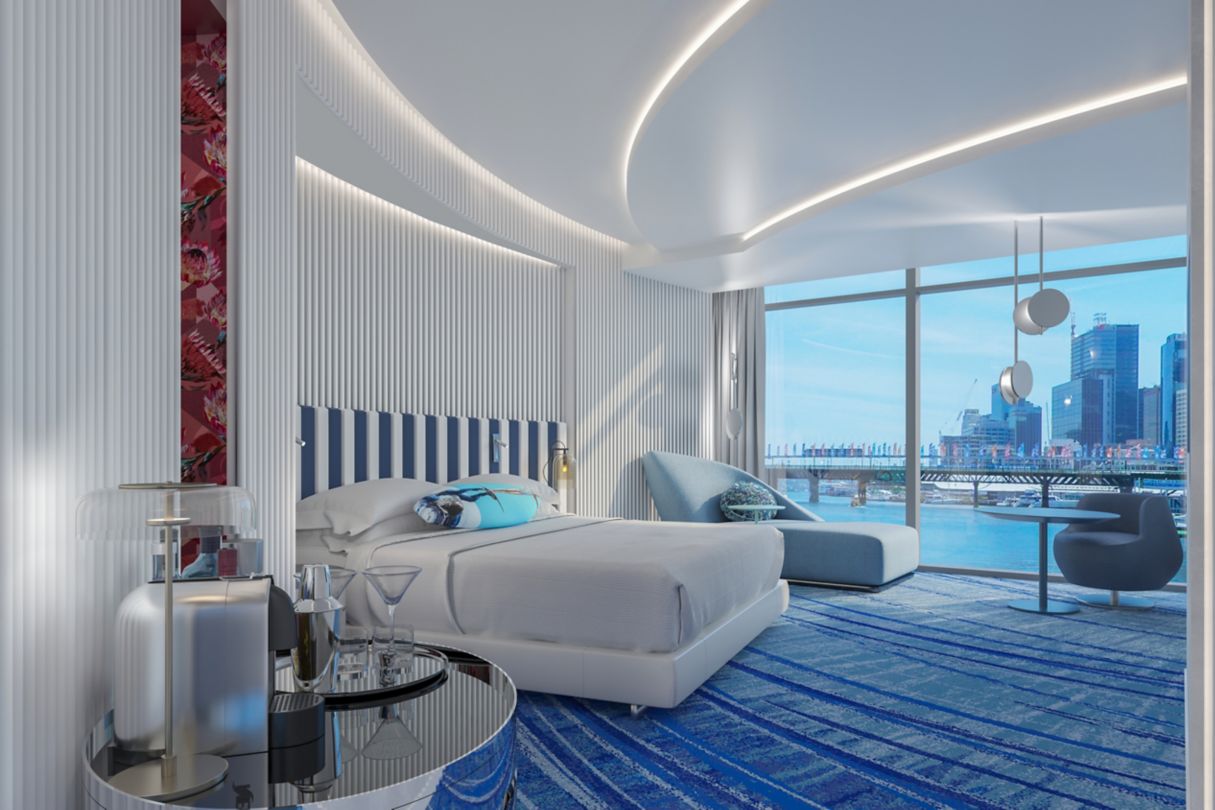 "W Sydney marks our W Hotels brand's triumphant return to Sydney, a long-awaited addition to our robust portfolio in Australia, following our recent debuts in Melbourne and Brisbane," said George Fleck, Vice President and Global Brand Leader of W Hotels. "W Sydney will cultivate a new cultural and social hub in the vibrant Darling Harbour precinct. It is the perfect canvas for a non-conformist approach to the luxury hospitality landscape with W's bold and energetic 'Whatever/Whenever' service ethos, dynamic design, and immersive programming as we celebrate Sydney through a new lens."
A Beacon of Bold Design
Located within The Ribbon and designed by acclaimed Australian architectural firm, Hassell, W Sydney rises above the roadways to hug Darling Harbour. Its exceptional interiors are designed by London-based Bowler James Brindley, who conceived W Sydney through the authenticity of the city's history, spirit, and lore; from the marine-inspired rooms and suites to the distinctive restaurant and bars. At the heart of the hotel's design story is 'the larrikin,' a quintessentially Australian character whose strong spirit informs and inspires the hotel's luxe yet unconventional interiors.
From the moment guests step past the W sign, inspired by the Australian Waratah flower, they are on a design-led journey. The copper-clad entry pays homage to subterranean Sydney and its disused railway tunnels, and an illuminated vertical promenade sweeps guests up into Living Room, a vivid blue space that reinvents the conventions of a traditional lobby by turning it into a social hub. Embracing a 'Future Noir' theme, Living Room is punctuated by an electric blue circular bar and nest-like seating that reference the Australian Bowerbird, a larrikin of the bird world. W Sydney's 588 guestrooms, including 162 exceptional suites, draw inspiration from the hotel's harbourside location and nearby beaches, exuding marine-chic in their nautical white and navy-blue palette and undulating walls that echo the sails of yachts in the marina below. Bathrooms are rendered in deep oceanic blue and walk-in wardrobes feature a burst of graphic, inflorescent red and pink Waratah flowers for a playful touch.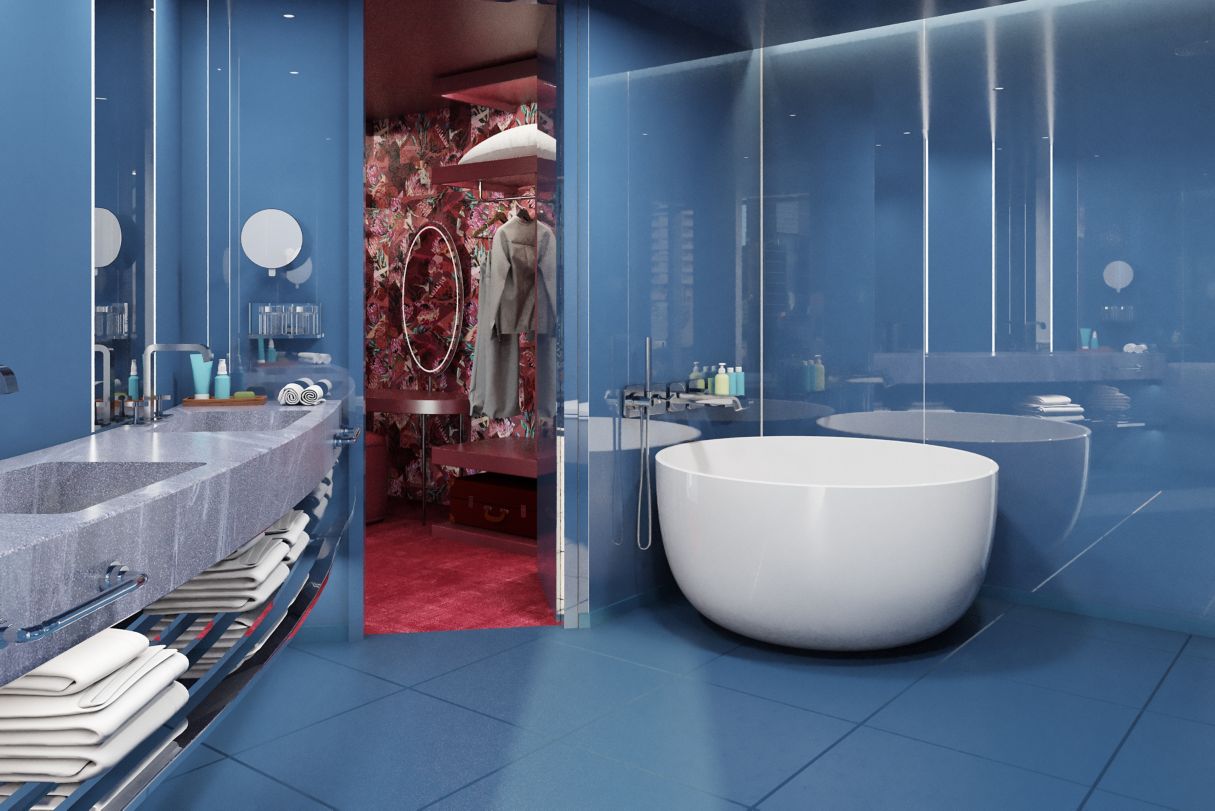 Cuisine Scene
Across all its spaces, W Sydney channels the boundless energy of the Harbour City and its culture of inclusivity with a tuned-in, curious attitude, amplified through always-on programming. Electrifying the city's culinary and nightlife scenes, W Sydney brings four new dining and bar venues across three exciting levels. BTWN embraces its unique setting adjacent to the flyover, drawing on its urban surroundings and weaving the iconography of night food markets into its spaces. Leading the culinary adventures at BTWN is Head Chef Chris Dodd, an alumnus of Aria and Blue Door, whose menus hero the produce of New South Wales. Just as other restaurants in town are winding down, BTWN comes alive with 2AM: dessertbar, a late-night hotspot created in collaboration with Singaporean dessert guru Janice Wong. Living Room's menus embrace the hotel's location on the edge of Asiatown with a focus on Sake and Soju, as well as Asian small bites. 29/30 is a two-level bar with uninterrupted harbour views, the perfect place to celebrate Sydney. A beacon at the apex of Darling Harbour, the WET Deck (pool) level bar evokes an underwater world with coral-inspired lighting and is a great spot for casual tapas and cocktails. Meanwhile, Level 30 above takes things up a notch with elevated cocktails, a menu of vintage Champagnes by the glass, and the above-sea-level décor of a superyacht.
Up and Away
Switching the mood, AWAY Spa is an oasis of concrete calm designed to leave guests feeling rested and recharged in an idiosyncratic but nevertheless deeply restorative space. The five treatment rooms and connecting spaces are gently enclosed by the meditative, geometric art of Bradley Eastman (aka Beastman). In addition to unique circular pods for beauty treatments, the spa features a bar for those who like to socialize while they decompress. The hotel's FIT Gym is complete with Technogym equipment, whereas WET Deck is a place to chill poolside with stellar views of Darling Harbour. The 30-metre open-air infinity pool showcases a giant jellyfish motif crafted from vivid glass mosaic tiles, a further nod to the hotel's joyful eccentricity.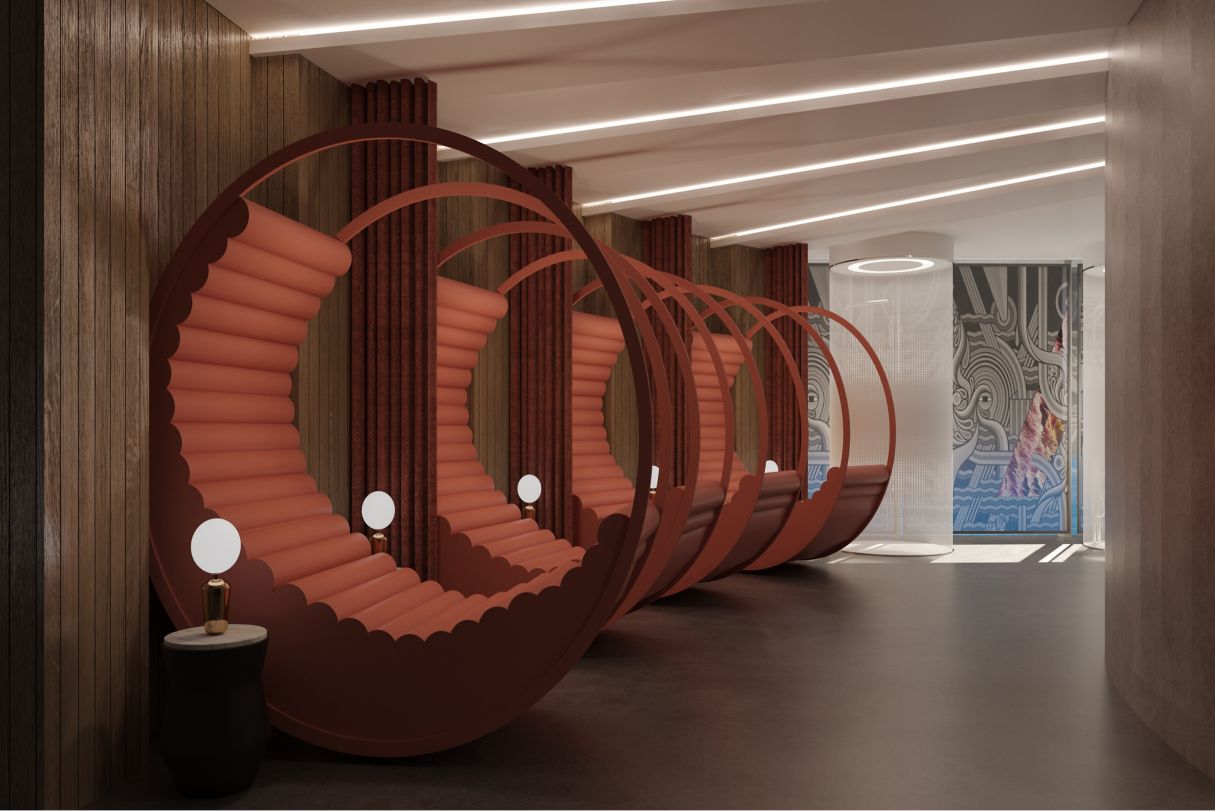 Business Pleasure
Whilst W Sydney is destined to be Sydney's newest playground, it also means business. Located just steps from Sydney's International Convention Centre, the hotel features 1300-square-meters of exceptional event space across eight versatile rooms. Set on level five, W Sydney's 592-square-meter pillarless Great Room features floor-to-ceiling windows that afford extraordinary views of the city. The design connects to the lively Darling Harbour setting, with light fittings and a graphic carpet that explode in a creative tribute to Sydney's famous fireworks.
"W Sydney reimagines luxury for a new era, creating a vibrant new scene for Sydneysiders and visitors to the city," says Craig Seaward, General Manager of W Sydney. "It's a complete departure from the city's traditional hotels and this unique W spirit is something you feel at every touchpoint, from our eclectic venues to the cool blue rooms and high energy programming. I can't think of a better location for our new W hotel than Sydney's amazing harbour. We can't wait to welcome guests again and again."