Australia – The best Gold Coast experiences
These are the ten must-try Gold Coast experiences for couples, famillies and solo travellers.
Stay at The Langham Gold Coast and dine at their chef-hatted restaurant, T'ang Court
A 5-star hotel experience and footsteps from the sand on Surfers Paradise Beach, The Langham Gold Coast is the place to be for beachfront luxury and refined dining. Offering a collection of residences, rooms and suites, guests can choose between hinterland or ocean views and an array of onsite dining experiences including their Cantonese fine-dining establishment T'ang Court. Renowned for their 14 days dry-aged duck dish, T'ang Court is an experience on its own, as is their Afternoon Tea, a compilation of exquisite savoury and sweet delights paired with bespoke-flavoured tea, coffee, and other beverages.
Enjoy breakfast with koalas at Currumbin Wildlife Sanctuary
Begin the morning with a delicious gourmet breakfast and meet our friendly koalas in a lush tropical setting. Guests are provided with the opportunity to learn about the conservation projects at the sanctuary, what koalas love to eat and why they are unique. As guests enjoy their breakfast, an experienced koala keeper will introduce them up-close to this beautiful Australian marsupial, with the option of enjoying a "cuddle a koala experience," an unforgettable encounter one will cherish forever.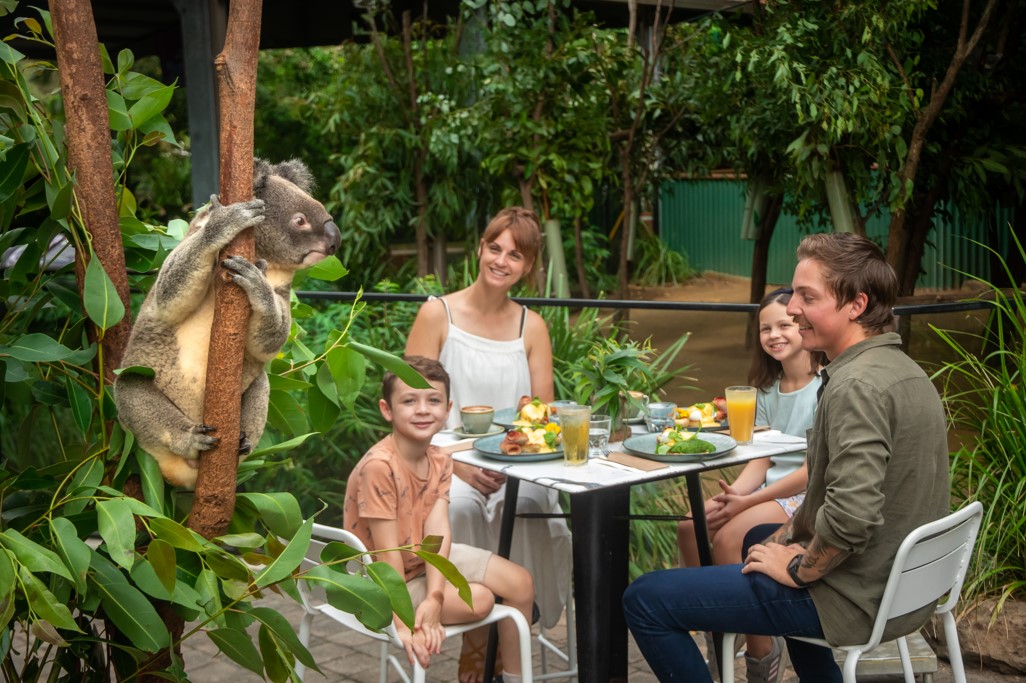 Spend an afternoon at SOAK Bathhouse in Mermaid Beach
It's not quite a holiday without a little pampering and at SOAK Bathhouse, that's exactly what life is all about. Offering guests, a tranquil sanctuary to enjoy a solo retreat or spend time with friends and loved ones, SOAK includes everything one needs to relax, unwind, and recharge. Guests can experience an indoor and outdoor bathing experience complete with a traditional dry cedar sauna, cold plunge pool, hot spas, a sparkling magnesium pool, steam room and indulgent remedial massage treatments.
Dive the Wonder Reef to discover marine life and magnificent underwater sculptures
Soaring 22m above the sea floor, Wonder Reef is a world-first buoyant reef providing divers the opportunity to explore nine gigantic structural reefs. Suitable for all levels of divers and just minutes from the shore, this underwater experience offers guests a front row seat to six species of magnificent coral and marine life including giant gold-spotted rock cods and Queensland groupers. There is also the chance to opt in at travelling up to 30m deep for the experienced diver, with 8 and 18m deep for those wishing to take it easy on their first round.
Swim with turtles with Cooly Eco Adventures
Enjoy an immersive experience on the Southern Gold Coast and snorkel through Turtle Island (Cook Island) where guests will encounter friendly turtle residents as they embark on an adventure along the Pacific Ocean. This experience is a short distance from the Gold Coast airport and is a wonderful experience for families and adults, with children six and up able to participate. Encountering turtles aren't the only marine life that can sometimes swim by, with dolphins often in the area also. After the morning adventure has concluded, head to Siblings at Kirra Beach, for a well-deserved beachfront lunch.
Fly across the ocean with Fliteboard Gold Coast
An adventure along the ocean like nothing else, hydro foiling across the Gold Coast's waterways is just as much thrilling as it is exciting. Guests will be guided by an experienced instructor who will show them how they too, can fly across the ocean providing them with the necessary skillset, confidence, and knowledge on how to do so. Consisting of private or group tours, each lesson goes for up to two hours, where fliteboard newbies and enthusiasts will glide by the sea using their coordination, balance, and determination. Once they feel comfortable gliding on their knees, guests will be invited to stand- an exciting move that brings joy, freedom, and adrenalin!
Indulge in the Gold Coast's famous café scene and coffee culture
Gold Coast locals love their coffee, and their brunch scene is one to be experienced, especially those who enjoy a special start to their day. For a café and bakery stop close by to the beach, head to Tarte Bakery in Burleigh Beach where brunch enthusiasts congregate for their morning coffee and incredible French-inspired pastries, desserts and breakfast items including miso scrambled eggs and daily made scrumptious bagels. As for the Gold Coast hinterland, the all new Franquette Bakery in Tamborine Mountain, an authentic French bakery specialising in artisan bread, pastries and gourmet sandwiches is a must-visit. Located on the famous Gallery Walk, expect buttery croissants with tasty fillings bursting at the seams, generously sized sandwiches consisting of in-house bread, scrumptious scrolls and so much more.
Visit the Gold Coast Hinterland, less than an hour's drive from the Gold Coast city centre
Often coined the green behind the gold, the Gold Coast hinterland has an array of experiences, restaurants and accommodations that are perfect for every traveller. For those looking for a romantic couples escape, look no further than the all-new 5 star boutique accommodation, Verandah House Country Estate in Tamborine Mountain, with eight luxury appointed suites and Ralph Lauren furnishings and views extending to the glistening coastline. As for a family-friendly escape, O'Reilly's Rainforest Retreat is perfect with a large selection of activities on-site including lorikeet feeding, a flying fox adventure, Australian wildlife encounters, glow worm tours and during the school holidays, an eco-rangers program designed especially for children's entertainment. For nature-lovers or waterfall-seekers, head to Curtis Falls in Tamborine Mountain National Park and check out the Tamborine Rainforest skywalk, perfect for adults and families.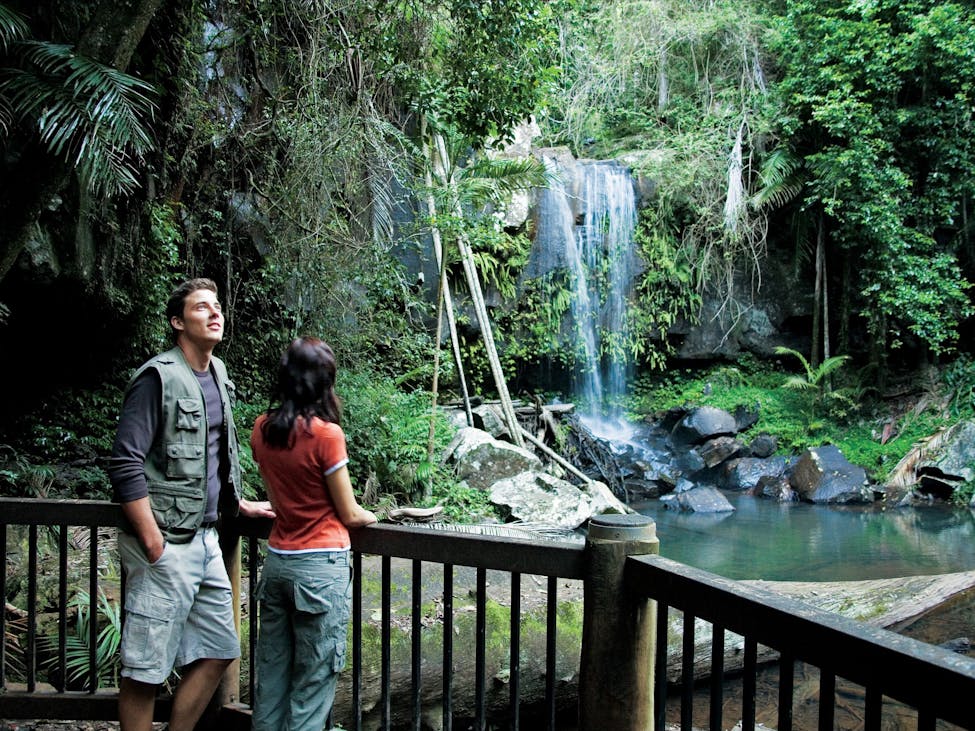 Enjoy a guided Gold Coast foodie tour with Kiff & Culture tours
A showcase of some of the must-see Gold Coast culinary experiences, Kiff and Culture's Eat and Drink Gold Coast tour chauffeurs guests around the Gold Coast as they taste their way across three popular venues. Rick Shores, a modern-Asian fusion dining establishment with an absolute beachfront location is the first stop where guests will be treated to a 5-course banquet menu. From there, guests will enjoy a visit to Gold Coast favourites, Granddad Jacks Distillery, home to the award-winning 65 Miles Gin and Precinct Brewing, the house of craft beer, good vibes and gourmet pizzas.
Visit the HOTA Farmers Markets and Gallery
Explore the Gold Coast like a local and enjoy a vibrant stroll through the HOTA Farmers Markets operating every week on Sunday morning from 6-11:30am. Enjoy browsing through a collection of stalls consisting of fresh local produce, artisan foods and boutique buys alongside live music, the aroma of fresh coffee and friendly locals. A beautiful lake presents as the backdrop of the HOTA precinct and is a wonderful place to relax, alternatively, head on into the HOTA Gallery and discover a delightful collection of eye-catching art, culture, and exhibitions. For those who didn't indulge in the market's culinary offering, there's also a high tea experience located at the onsite chef-hatted restaurant, Palette where one can enjoy sweet and savoury delights including prawn toast with fermented chilli mayo and their famous white chocolate and cranberry scones paired with berry jam and double cream.