Aruba – Perfect choice for travelers seeking a unique island experience
Hilton announced the opening of Embassy Suites by Hilton Aruba Resort, the 330-all-suite resort nestled between the dazzling waters of the top-rated Eagle Beach and the scenic lagoon of the Bubali Bird Sanctuary. The opening marks the first Embassy Suites by Hilton property in Aruba and second Hilton hotel on the island.
"We are delighted to continue our expansion in the Caribbean with the opening of the newly built Embassy Suites by Hilton Aruba Resort," said Jorge Giannattasio, senior vice president and head of Caribbean and Latin America. "With more than 25 properties across the Caribbean, Hilton hotels are poised to welcome travelers in some of the most sought-after destinations."
Located just six miles from the Queen Beatrix International Airport which receives more than 100 direct flights from major cities around the world, Embassy Suites by Hilton Aruba Resort is located across the street from the white sands of Eagle Beach and a short ride from Palm Beach where guests can experience Aruba's flavors and nightlife. The resort introduces a more home-style experience to the island, inviting guests to experience the local culture and natural beauty of island life, with nearby major attractions including the idyllic Bubali Bird Sanctuary, California Lighthouse, Butterfly Farm and Alto Vista Chapel. With its large guest rooms, central location and stunning views of the Caribbean, this hotel serves as the perfect beachfront homebase.
"Embassy Suites by Hilton Aruba Resort is an exciting new hotel that brings the industry-leading all-suites brand to one of the most sought-after Caribbean destinations," said Bonnie Campagnuolo, brand leader, Embassy Suites by Hilton. "The highly-anticipated property builds on the brand's impressive existing beach presence and is the perfect choice for both business and leisure travelers seeking a unique island experience."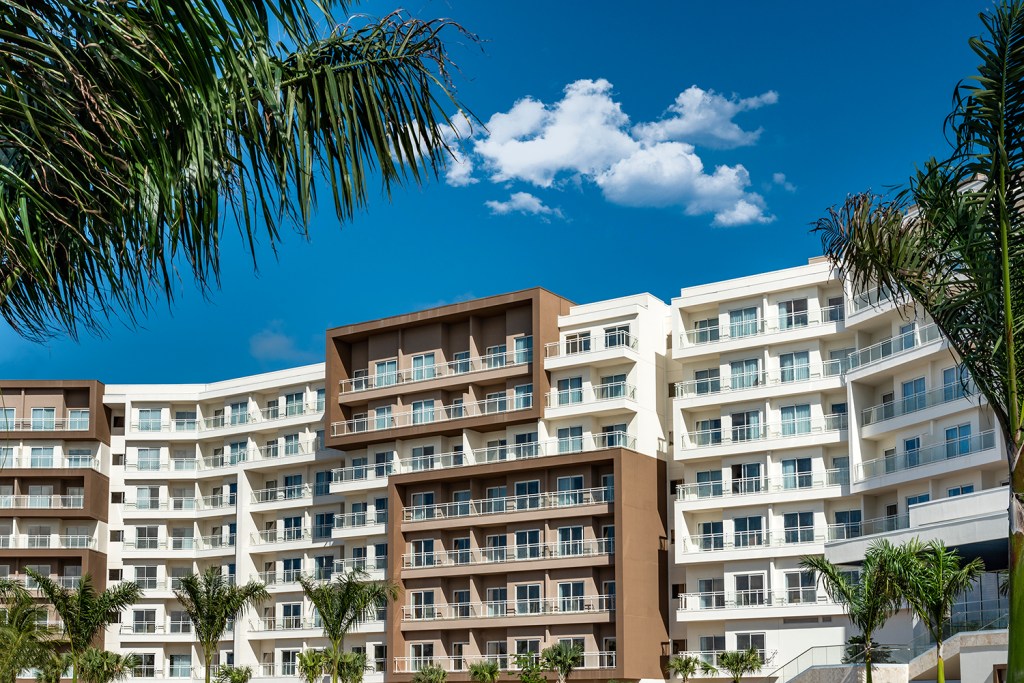 Spacious Accommodations
Embassy Suites by Hilton Aruba Resort features 330 two-room suites, with a contemporary design inspired by Aruba's iconic beaches and the Bubali Bird Sanctuary that uses a neutral and ocean blue color palette, wood accents and sea life art to create a calming, warm and inviting environment that feels like home.
Rooms sleep up to six guests and are available as two queens or one king bed, with the living area offering extra seating and a sleeper sofa. Dining areas offer a wet bar outfitted with a microwave, mini-fridge and coffee maker to create the perfect homebase to socialize with family and friends.
Most rooms offer balconies, designed to enjoy the expansive views of the ocean, nature or pool from coffee at sunrise to a cocktail at sunset.
Dining Delights
With five food and beverage outlets on property in addition to room service, guests can choose from a variety of dining experiences to suit their tastes. As an Embassy Suites by Hilton hotel, guests can enjoy the brand's signature complimentary breakfast with both made-to-order items as well as a breakfast buffet each morning at Brickstone, while looking out on to the Caribbean Sea.
The Grab & Go market offers coffee drinks, sandwiches, pastries and plenty of snacks to bring along for a day at the beach. Guests spending a day by the pool can sip drinks at the pool bar, or stop by Splash, a snack and grill restaurant that overlooks the pool. Before heading to dinner, guests can visit the lobby bar for a complimentary evening reception featuring drinks and light bites, and incredible sea views.
Amenities and Attractions
Guests of Embassy Suites by Hilton Aruba Resort will enjoy an array of amenities. A private underground tunnel walkway connects the hotel to the powdery white sands of the world-famous Eagle Beach, annually voted one of the most beautiful beaches in the world. Relax in plush chaise lounges by the hotel's expansive outdoor pool, and frequent pool-goers can even book a suite with direct pool access. Perfect for families, the hotel also offers a children's pool, outdoor playground where little ones can climb, slide and explore, and kids' activities, such as scavenger hunts. For those looking to maintain fitness routines while away from home, the hotel offers a 24/7 fitness center and fitness classes including yoga and aerobics.
Later this year, the hotel will open a spa with five treatment rooms, Jacuzzi and sauna. Guests can relax with an array of treatments, from massages to facials.
Destination Weddings, Events and More
With nearly 7,000 square feet of flexible indoor event and meeting space and 2,500 square feet of meeting space outdoors, Embassy Suites by Hilton Aruba is a tropical oasis for oceanside corporate events and meetings. From rehearsal to reception, destination wedding guests will love it, too, especially the property's 4,100 square foot ballroom that can hold up to 330 guests.