Colombia – New property features five dining experiences
Hilton announced the opening of Hilton Santa Marta, Hilton's second hotel in Colombia's oldest Hispanic city. Overlooking the Caribbean Sea, the contemporary 261-room property is within walking distance from the beach and conveniently located near the mountains of Sierra Nevada and the ancient ruins of Tayrona National Natural Park. The newly constructed hotel features five unique dining experiences, more than 11,000 square feet of flexible meeting and event space and an array of amenities.
"The opening of Hilton Santa Marta is an exciting addition to our rapidly growing portfolio of more than 200 hotels in the Caribbean and Latin America," said Jorge Giannattasio, senior vice president and head of operations, Caribbean and Latin America, Hilton. "We are thrilled to open our second hotel in Santa Marta and offer an elevated experience and Hilton's friendly service in this unique destination in Colombia that blends beaches, mountains and exuberant nature."
Just eight miles from Santa Marta's historical downtown and four miles from Simon Bolivar International Airport, Hilton Santa Marta offers an ideal location for guests visiting the city. The first Spanish settlement established in 1525, Santa Marta is the gateway to Tayrona National Natural Park, a natural reserve with more than 37,000 acres of white-sand beaches with crystalline waters nestled against a lush, hillside forest. The land and sea park is also home to archaeological sites, indigenous communities and diverse flora and fauna.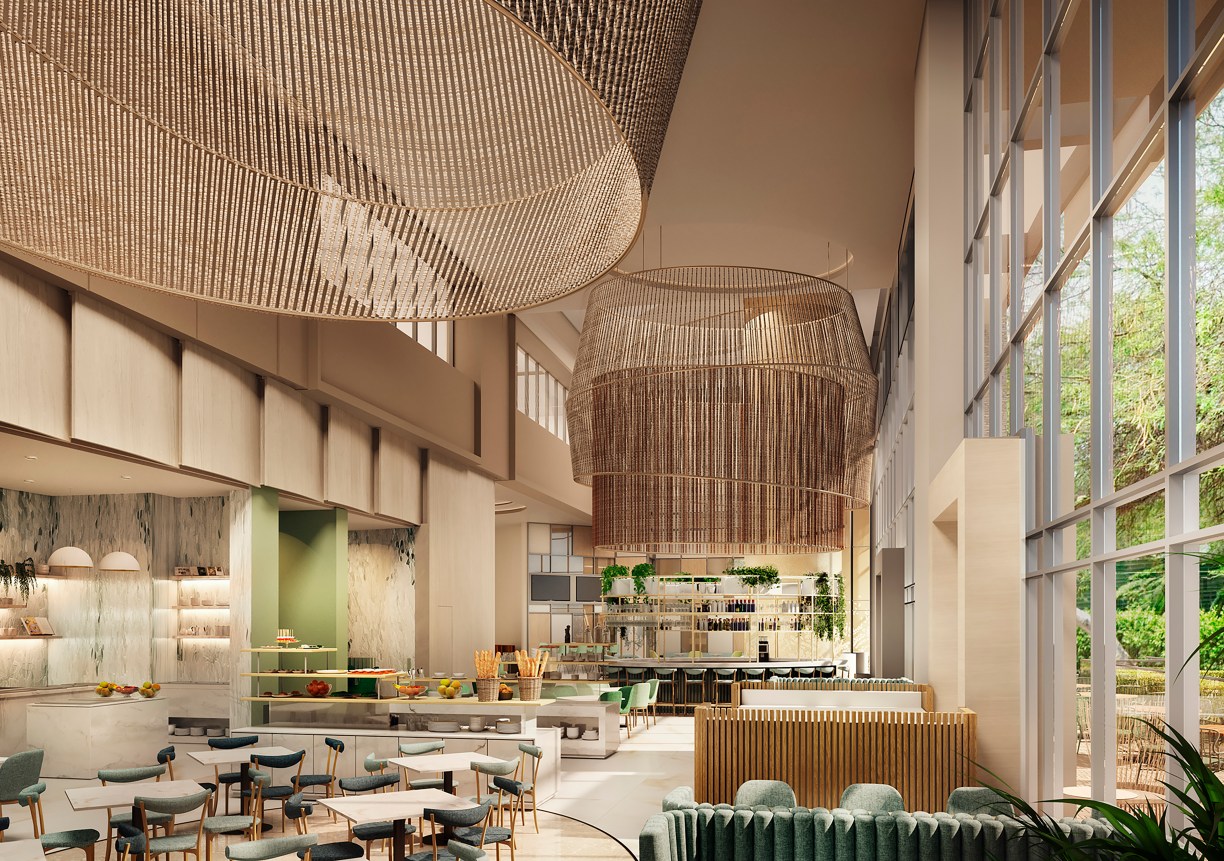 Inspired by its surroundings, Hilton Santa Marta's contemporary design creates an elegant and warm ambiance through elements of stones, woods, metals and crystals. The hotel's main entrance features a water mirror made of Tayrona stone and a façade composed of a metal structure inspired by the nearby coral reefs, allowing for seamless integration of the interior with the exterior through a harmonious passage of natural light.
The hotel's design concept spans into the guest room corridors, decorated with woodwork engraved by local artisans and showcasing the area's diverse marine wildlife, including manta rays, lionfish and turtles. Spacious guest rooms offer balconies with ocean or mountain views, ample closet space and a large shower. For those seeking more spacious accommodations, suites with a separate living area with a sofa bed allow travelers to spread out, notably the Ocean Front Suite Terrace and its oversized furnished balcony with a hot tub, sizeable living room and spacious dining room.
"We are delighted to expand the footprint of Hilton's flagship brand in this spectacular destination with the debut of Hilton Santa Maria," said Leonard Gooz, global brand head, Hilton Hotels & Resorts. "Hilton Hotels & Resorts will continue to set the benchmark for hospitality at this new property with intuitive service and world-class amenities, including an array of dining options, contemporary design with local influences and exceptional event experiences."
Unique Dining Experiences
Hilton Santa Marta features five unique culinary concepts that showcase local cuisine and international flavors, with restaurant names honoring the native Arhuaco language.
Nuggu Restaurant and Bar, meaning "salt," pays homage to Colombia's rich history with Latin soul food and Caribbean Creole authentic dishes. Open daily for breakfast, lunch and dinner, guests can also stop by for a cocktail or glass of wine throughout the day.
Located on the second floor near the hotel's spa and fitness center, Waku, or "fish" in Arhuaco, offers a selection of seafood and catch of the day in a vibrant atmosphere.
Guests lounging by the pool can enjoy a casual globally-inspired lunch and refreshing drinks honoring local fruits at the pool bar Uzu, or "sand."
The highest rooftop lounge and bar in the city, Sikunu, or "slingshot," is located on the hotel's 16th floor. The Creole menu is influenced by prehispanic cultures and based on the flowers of the Sierra Nevada Mountains. Signature cocktails are inspired by the Arhuaco, including clove and aniseed maceration.
Guests can enjoy the beach and the famous Santa Marta sunset from the hotel's beach club, while enjoying a selection of snacks and cocktails.
Entertainment for All
Whether traveling for business or leisure with friends or family, Hilton Santa Marta offers a range of activities for all ages. Guests can soak up the sun at the beach club or the family pool on the second floor. For breathtaking views of the Sierra Nevada Mountains and the Caribbean Sea, head to Sikunu Sky Bar, the highest rooftop bar in the city, to enjoy the infinity adults-only pool or relax in the hot tub. Later this year, the hotel will introduce a Kids' Club, a spa with six treatment rooms, a beauty salon and an exclusive lounge for Hilton Honors members and suites' guests.
Celebrations & Events
Whether hosting a meeting or a social event, Hilton Santa Marta offers more than 11,000 square feet of flexible event space, including eight meeting rooms and a ballroom that can hold up to 450 guests. With a terrace on the 16th floor, Hilton Santa Marta is the perfect venue for an outdoor event with fantastic views.