Ecuador – New property with a rooftop garden overlooking Quito
Hilton announced the opening of Hampton by Hilton Quito La Carolina Park. Located high in the Andean foothills, the new hotel in the heart of Ecuador's historic capital city features a rooftop garden overlooking Quito with views of the iconic El Panecillo monument and Guagua Pichincha volcano.
"The opening of Hampton by Hilton Quito La Carolina Park is an exciting addition to Hilton's continued growth story in Ecuador," said Shruti Gandhi Buckley, brand leader, Hampton by Hilton. "Hampton is an unparalleled guest favorite that consistently raises the bar and sets the standard for its category. As the brand officially enters new territory in the Caribbean and Latin America region, this remarkable hotel offers business and leisure travelers an exceptional place to stay in central Quito."
The 13-story, 135-room hotel is surrounded by parks, museums, retail and corporate businesses and is a 10-minute walk from the expansive hiking trails and recreation facilities of Metropolitan Park and Carolina Park. The property is also within a kilometer of Quicentro Shopping Mall, Atahualpa Olympic Stadium and dozens of restaurants.
"We are honored and proud to debut Hampton by Hilton in Quito," said Patricio Jiménez, general manager, Hampton by Hilton Quito La Carolina Park. "We look forward to sharing the Hamptonality culture with all of our guests here in Ecuador."
Owned by Hotelera Genovesa and developed by Hotel Colón Internacional C.A., Hampton by Hilton Quito La Carolina Park is Ecuador's first EDGE Advanced hotel certified by the International Finance Corporation. The hotel received the global program distinction due to its rigorous sustainability characteristics, which reduce energy consumption by 54%, utilize 37% less water and have 44% less environmental impact in its construction materials compared to a standard building.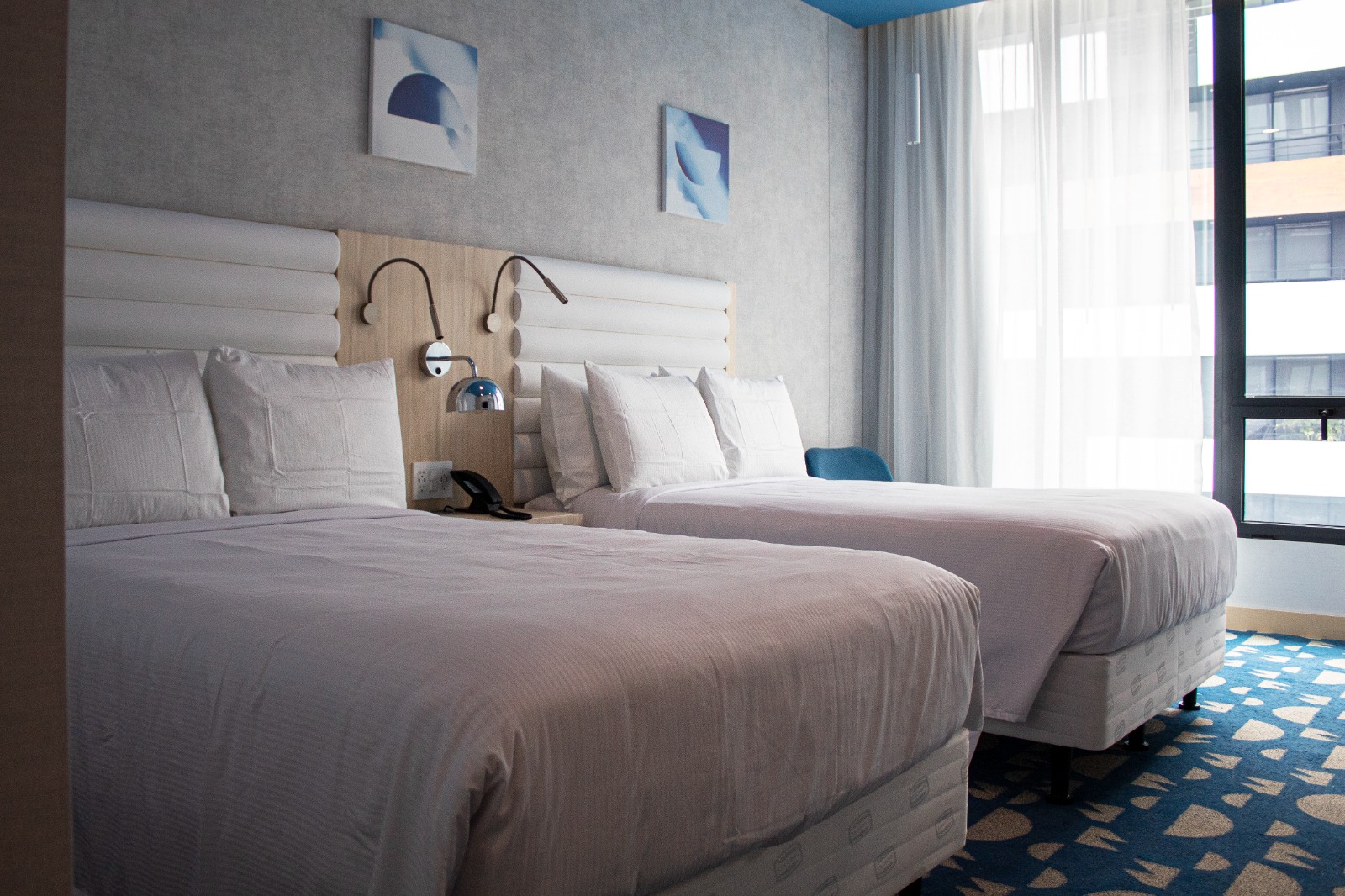 Hampton by Hilton Quito La Carolina Park delivers the seamless experience and thoughtful amenities that the Hampton by Hilton brand is known for. The newly constructed hotel features modern and clean and comfortable guest rooms and a full complement of high-quality, value-added amenities, including free in-room and lobby Wi-Fi, a fitness center with views of the city, free hot breakfast featuring Hampton's signature waffles, and a bar and snack shop in the lobby area.
In addition to everything Hampton by Hilton Quito La Carolina Park offers families and leisure travelers, the property is also ideally suited for business travelers. With many corporate and global company offices nearby, the hotel provides various onsite meeting spaces, including three sunlit meeting rooms on the 13th floor and co-working spaces on the lobby level.